filed under Action / Adventure, Box Sets, Collections, Drama, Science Fiction, Suspense, Television Serials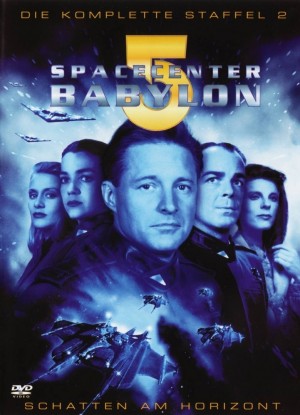 The journey forges on, as the shadows deepen.
Armed with a new commander and a fortified sense of purpose, Babylon 5 continues its often perilous but always vital peace mission among the five competing interstellar races that inhabit it, each variously compromised of diplomats, smugglers, terrorists and dreamers. This 6-disc, 22 episode set of the second season of the Hugo and Emmy winning series has been digitally remastered for superior presentation and includes exclusive extras. All aboard for Season Two: The Coming of Shadows.
Season 2 Episodes:
Points of Departure
Revelations
The Geometry of Shadows
A Distant Star
The Long Dark
A Spider in the Web
Soul Mates
A Race Through Dark Places
The Coming of Shadows
Gropos
All Alone in the Night
Acts of Sacrifice
Hunter, Prey
There all the Honour Lies
And Now for a Word
In the Shadow of Z'ha'dum
Knives
Confessions and Lamentations
Divided Loyalties
The Long, Twilight Struggle
Comes the Inquisitor
The Fall of Night
Principle Actors
Andrea Thompson // Andreas Katsulas // Bill Mumy // Bruce Boxleitner // Claudia Christian // Jerry Doyle // Mary Kay Adams // Mira Furlan // Peter Jurasik // Richard Biggs // Robert Rusler // Stephen Furst