filed under Animation, Family / Kids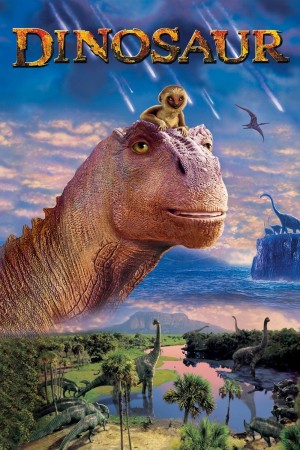 Discover an amazing blend of filmmaking technology and brilliant storytelling that only Disney could bring you. DINOSAUR is the remarkable, action-packed story of dinosaurs who must face the challenge of their lives. Along the way, they learn that with courage, hope and loyalty, they can triumph over the greatest obstacles.
Journey back in time 65 million years, when dinosaurs roamed the earth and emet Aladar, an iguanadon accidentally separated from his own species while still inside the egg. Luckily, he hatches into the loving care of a clan of lemurs, including the wisecracking Zini and the compassionate Plio. But, when a devastating meteor shower strikes the earth, their home is destroyed, and Aladar and his new family must join a group of dinosaurs on a treacherous journey to the safety of the "nesting grounds."
A special effect phenomenon, DINOSAUR blends live-action photography and computer-generated animation in a jaw-dropping, thrilling story that the whole family will love!
Principle Actors
Alfre Woodard // D.B. Sweeney // Della Reese // Hayden Panettiere // Joan Plowright // Julianna Margulies // Max Casella // Ossie Davis // Peter Siragusa // Samuel E. Wright