filed under Action / Adventure, Box Sets, Collections, Drama, Science Fiction, Suspense, Television Serials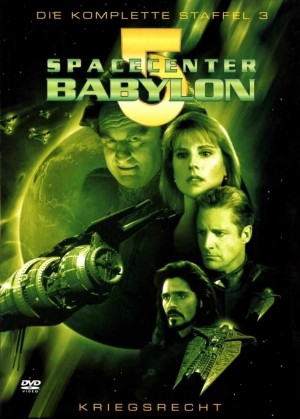 Betrayed. Battered. Unbeaten. The station goes to war against the fearsome Shadows.
The year is 2260 and the space station that was the last, best hope for peace is now the only hope for victory. Sheridan and the rest of the Babylon 5 command take a stand against the duplicitous alliance forged by Earth and the Shadows in this 6-disc, 22 episode, third season set. The award winning series has been digitally remastered for superior presentation and boasts exclusive extras produced in collaboration with the series creators. Lock into boarding position for Season Three: Point of No Return.
Season 3 Episodes:
Matters of Honour
Convictions
A Day in the Strife
Passing Through Gethsemane
Voices of Authority
Dust to Dust
Exogenesis
Messages From Earth
Point of No Return
Severed Dreams
Ceremonis of Light and Dark
Sic Transit Vir
A Late Delivery From Avalon
Ship of Tears
Interludes and Examinations
War Withour End, Part 1
War Withour End, Part 2
Walkabout
Grey 17 is Missing
And the Rock Cried Out, No Hiding Place
Shadow Dancing
Z'ha'dum
Principle Actors
Andreas Katsulas // Bill Mumy // Bruce Boxleitner // Claudia Christian // Jason Carter // Jeff Conaway // Jerry Doyle // Mira Furlan // Peter Jurasik // Richard Biggs // Stephen Furst