filed under Animation, Animation Series, Comedy, Science Fiction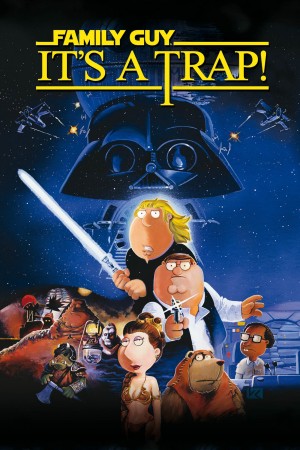 Clear some space for the third chapter of the funniest trilogy in the galaxy!
Once again, the Family Guy alliance travels far, far beyond the boundaries of good taste to bring you an outrageous intergalactic journey. Join them for one last outer space adventure, as Han Solo (Peter), Chewbacca (Brian) and Princess Leia (Lois) battle against the Evil Empire.
Meanwhile, Darth Vader (Stewie) and the Emperor (Carter) try to recruit Luke Skywalker (Chris) to the dark side of the Force with taco nights and T-shirts.
Filled with outlandish humour and exploding spaceships, Family Guy unites for a final sci-fi spoof!
We aren't doing any more, folks.
Principle Actors
Alex Borstein // Arianna Huffington // Danny Smith // Dee Bradley Baker // H. Jon Benjamin // John G. Brennan // Michael Dorn // Mike Henry // Mila Kunis // Nat Faxon // Patrick Stewart // Patrick Warburton // Rush Limbaugh // Seth Green // Seth MacFarlane