filed under Animation, Comedy, Short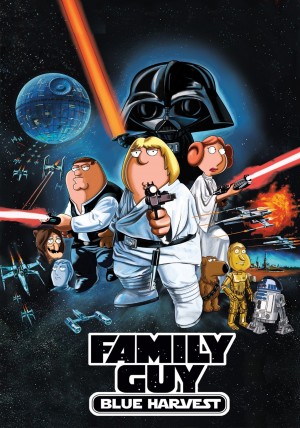 If you think you know Family Guy, you don't know Sith...
The laughs come full "Force" when the Griffin clan puts a freakin' sweet spin on the greatest sci-fi saga ever told! With Peter playing the swashbuckling Han Solo, Lois as the sexy Princess Leia, Chris as an adolescent Luke Skywalker, Brian as a well-spoken Chewbacca and Stewie finally embracing his dark side as Darth Vader, who knows what will happen? Filled with outrageous gags, spaced-out droids and more intergalactic satire than you can shake a lightsaber at, this epic spoof is a must-own for every fan of Family Guy!
Principle Actors
Adam West // Alex Borstein // Beverly D'Angelo // Chevy Chase // Helen Reddy // John G. Brennan // Lori Alan // Mick Hucknall // Mike Henry // Mila Kunis // Patrick Warburton // Phil LaMarr // Rush Limbaugh // Seth Green // Seth MacFarlane // Steve Callaghan