filed under Animation Series, Box Sets, Comedy, Television Serials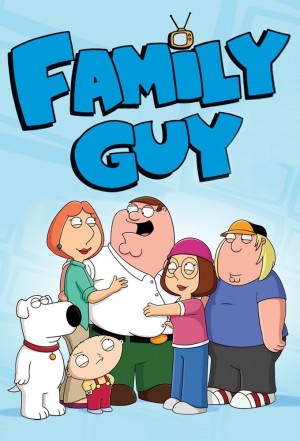 Family Guy Volume 2 sees the return of America's most outrageous animated family with all 21 Season Three episodes, plus one never-before-seen episode -- "When You Wish Upon A Weinstein" banned from TV, and only available in this collection!
In this hilarious final volume, the Griffin family faces all-new dilemmas, including Brian's unintentional foray into directing porn, Stewie's rants on national TV, Meg's date with a nudist and Lois's Yuletide insanity.
Meanwhile, Peter is surprised to discover Lois was once a groupie, and his son, Chris, is more "endowed" than he is.
Season Three Episodes:
The Thin White Line
Brian Does Hollywood
Mr. Griffin Goes to Washington
One If By Clam, Two If By Sea
And the Wiener is
Death Lives
Lethal Weapons
The Kiss Seen Round the World
Mr. Saturday Knight
A Fish Out of Water
Emission Impossible
To Love and Die in Dixie
Screwed the Pooch
Peter Griffin: Husband, Father... Brother?
Ready, Willing and Disabled
A Very Special Family Guy Freakin' Christmas
Brian Wallows and Peter's Swallows
From Method to Madness
Stuck Together, Torn Apart
Road to Europe
Family Guy Viewer Mail #1
When You Wish Upon a Weinstein
Principle Actors
Adam West // Alec Sulkin // Alex Borstein // Alexandra Breckenridge // Danny Smith // Fred Tatasciore // Gary Cole // John G. Brennan // John Viener // Lori Alan // Mike Henry // Mila Kunis // Nicole Sullivan // Patrick Warburton // Phil LaMarr // Rachael MacFarlane // Ralph Garman // Seth Green // Seth MacFarlane // Wally Wingert