filed under Action / Adventure, Animation Series, Box Sets, Comedy, Television Serials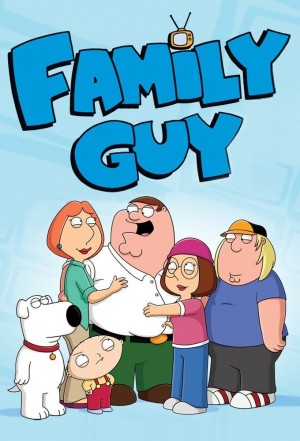 Critics agree... of all animated shows featuring a talking dog and a maniacal baby, Family Guy is certainly one of them!
Join the Griffin clan for another 13 freakin' funny episodes that'll keep you laughing long after the series gets cancelled again. Witness panicky Peter's first prostate exam; see lovable Lois jump into bed with Bill Clinton; watch miserable Meg get a crappy job at the local superstore; hear crazy Chris sing in a goth band; get a rare glimpse of smitten Stewie as he hooks up with a very young old flame. Sweet!
Season 5 Part One
Stewie Loves Lois
Mother Tucker
Hell Comes to Quahog
Saving Private Brian
Whistle When Your Wife Works
Prick Up Your Ears
Chick Cancer
Barely Legal
Road to Rupert
Peter's Two Dads
The Tan Aquatic with Steve Zissou
Airport '07
Bill and Peter's Bogus Journey
Principle Actors
Adam West // Alec Sulkin // Alex Borstein // Alexandra Breckenridge // Chris Cox // Chris Sheridan // Danny Smith // Fred Tatasciore // Gary Cole // Jennifer Tilly // John G. Brennan // John Viener // Kevin Michael Richardson // Lacey Chabert // Lori Alan // Mark Hentemann // Mike Henry // Mila Kunis // Nicole Sullivan // Patrick Warburton // Phil LaMarr // Rachael MacFarlane // Ralph Garman // Seth Green // Seth MacFarlane // Tara Strong // Wally Wingert