filed under Action / Adventure, Anime (Japanese Animation), Comic-to-Film, Manga, Science Fiction, Thriller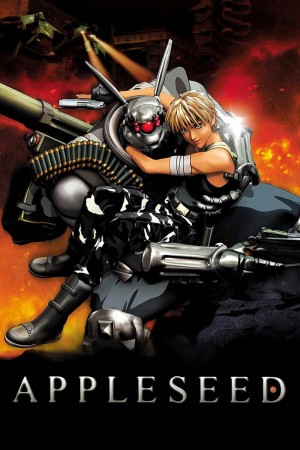 Humanity's last chance for survival.
Earth's last city, Olympus, rose from the ashes of a global war on the backs of Biodroids, artifical clones who make up half the city's population. Under the strict guidance of a supercomputer, humanity's last survivors enjoy an idyllic peace, but only on the surface...
Human terrorists within the military seek a return to power and clash with the government's ES.W.A.T. forces led by the legendary soldier, Deunan Knute and her boyfriend who is 75% machine. Retrieving the Appleseed will end the conflict and Deunan alone holds its secret.
This intense animated feature, based on the graphic novels created by Shirow Masamune, features direction by Shinji Aramaki and a powerful soundtrack from today's top international music artists including: Boom Boom Satellites, Paul Oakenfold, Basement Jaxx and world renowed Ryuichi Sakamoto.
Principle Actors
Ai Kobayashi // Akimoto Tsubasa // Asumi Miwa // Bob Papenbrook // Deborah Sale Butler // Ikuo Nishikawa // Jack Aubree // Jamieson Price // Jûrôta Kosugi // Liam O'Brien // Mami Koyama // Mary Elizabeth McGlynn // Michael Forest // Michael McConnohie // Ryûji Nakagi // Steve Kramer // Takehito Koyasu // Tomoko Kawakami // Toshiyuki Morikawa // William Bassett // William Knight // Yuki Matsuoka // Yuzuru Fujimoto