filed under Action / Adventure, Book-to-Film, Drama, Fantasy, Science Fiction, Television Movies, Television Serials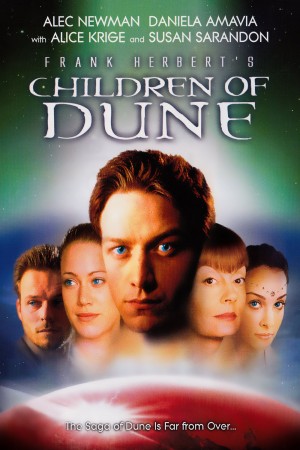 For the first time ever the second and third books in the bestselling "Dune Chronicles" series are adapted for the screen in Frank Herbert's Children of Dune.
Against a backdrop of interplanetary intrigue, rebellion and betrayal, the future of humanity itself rests with the Children of Dune in this sweeping tale of visionary sci-fi adventure! A spectacular sequel to the Emmy Award winning Frank Herbert's Dune, starring Academy Award winner Susan Sarandon.
Principle Actors
Alec Newman // Alice Krige // Barbara Kodetova // Daniela Amavia // Edward Atterton // Ian McNiece // James McAvoy // Jessica Brooks // Jonathan Brunn // Julie Cox // P.H. Moriarty // Steven Berkoff // Susan Sarandon