filed under Action / Adventure, Animation Series, Box Sets, Family / Kids, Science Fiction, Special Editions, Television Serials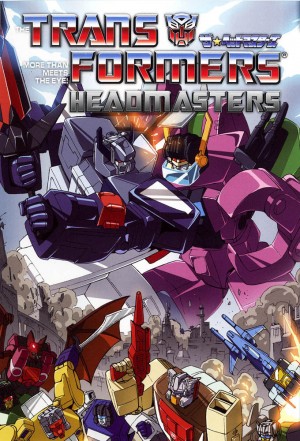 Season Four may have marked the end of the American series of Transformers, but Japan had many more stories to tell...
Supplanting the events of America's fourth season, Transformers: Headmasters begins one year after the end of Season Three. Optimus Prime lives again, the energy of the Matrix has been released and peace reigns on Cybertron... but that is all about to change with the startling arrival of the newest breed of Transformer warrior - the Headmasters!
Prepare to encounter new friends, new foes and many familiar faces as Fortress Maximus and Scorponok lead the Autobots and Decepticons in a war which stretches across the galaxy and back again!
Now officially available in its entirety for the first time anywhere in the West, Transformers: Headmasters is presented in its original Japanese with new subtitles created especially for this release.
Principle Actors
Banjô Ginga // Hideyuki Hori // Hiroya Ishimaru // Hiroyuki Satô // Hôchû Ôtsuka // Ikuya Sawaki // Issei Masamune // Katsuji Mori // Kazue Komiya // Kazumi Tanaka // Kazuo Oka // Kei'ichi Noda // Keiichi Nanba // Ken Yamaguchi // Kôji Totani // Masashi Ebara // Masato Hirano // Michihiro Ikemizu // Michitaka Kobayashi // Naoki Tatsuta // Osamu Saka // Ryôichi Tanaka // Seizô Katô // Tesshô Genda // Tomiko Suzuki // Tomomichi Nishimura // Yôko Kawanami // Yûji Mikimoto