filed under Action / Adventure, Animation, Anime (Japanese Animation), Drama, Science Fiction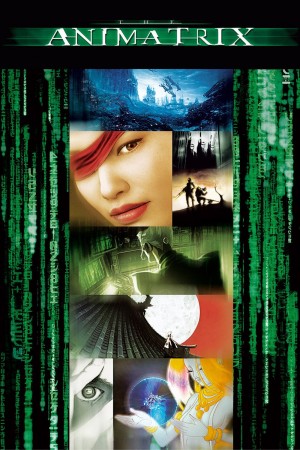 9 short films exploring the incredible world of The Matrix.
Welcome to The Animatrix, a visionary fusion of CG-animation and Japanese animé from the world's most revered animé directors. Experience the prequel to The Matrix and learn about the last cities of mankind, the war with the machines and humantiy's ultimate downfall. Witness the Final Flight of the Osiris, which sets the stage for The Matrix Reloaded movie and Enter the Matrix video game. Grasp a more complete understanding of The Matrix available nowhere else. Expand your mind even further as you unlock a dazzling arsenal of Bonus Materials. It's time to plug in.
The Films:
Final Flight of the Osiris
The Second Renaissance Parts I & II
Kid's Story
Program
World Record
Beyond
A Detective Story
Matriculated
Principle Actors
Akio Ôtsuka // Alex Fernandez // Allison Smith // Bette Ford // Carrie-Anne Moss // Clayton Watson // Dane A. Davis // Debi Derryberry // Dwight Schultz // Hedy Burress // Jack Fletcher // James Arnold Taylor // Jill Talley // John DeMita // John Di Maggio // John Wesley // Julia Fletcher // Kath Soucie // Keanu Reeves // Kevin Michael Richardson // Matt McKenzie // Melinda Clarke // Olivia D'abo // Pamela Adlon // Phil LaMarr // Rick Gomez // Rodney Saulsberry // Tara Strong // Terrence 'T.C.' Carson // Tom Kenny // Tress Macneille // Victor Williams