filed under Action / Adventure, Comic-to-Film, Science Fiction, Thriller, Western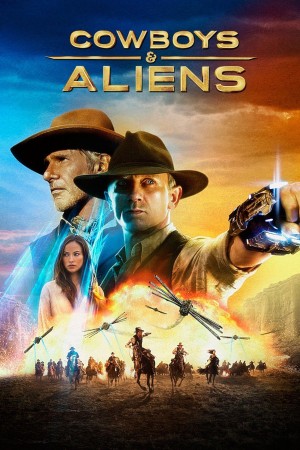 Daniel Craig and Harrison Ford star in this action-packed sci-fi western from the director of Iron Man that critics call "wickedly original, unlike anything you've ever seen" (Jake Hamilton, Fox-TV Houston, TX).
A stranger stumbles into the desert town of Absolution with no memory of his past and a futuristic shackle around his wrist. With the help of mysterious beauty Ella and the iron-fisted Colonel Dolarhyde, he finds himself leading an unlikely posse of cowboys, outlaws and Apache warriors against a common enemy from beyond this world in an epic showdown for survival.
Principle Actors
Abigail Spencer // Adam Beach // Ana de la Reguera // Buck Taylor // Clancy Brown // Cooper Taylor // Daniel Craig // Harrison Ford // Keith Carradine // Matthew Taylor // Noah Ringer // Olivia Wilde // Paul Dano // Sam Rockwell // Walton Goggins