filed under Action / Adventure, Anime (Japanese Animation), Drama, Game-to-Film, Manga, Science Fiction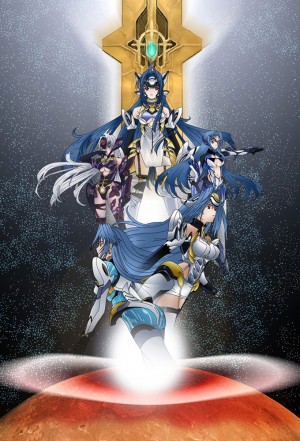 The mega-hit video game comes to life in an explosive sci-fi adventure!
4000 years after abandoning the Earth, the fate of humanity now hangs on the actions of a tiny few! Under attack by a merciless enemy from another dimension, the crew of the spaceship Woglinde must fight not only to save their own lives, but also to keep a mysterious monolith with unknown powers out of the claws of mankinds most fearsome enemy. The monolith is called the Zohar, and the evil Gnosis will stop at nothing to get it.
Enter Kos-Mos, a robotic weapon as dangerous and misunderstood as she is beautiful. Designed to protect humankind, she maybe its last hope... or the instrument of its downfall.
Principle Actors
Ai Maeda // Andrew Love // Blake Shepard // Brittney Karbowski // Carrie Savage // Chris Ayres // Chris Patton // Eriko Kawasaki // Greg Ayers // Hideyuki Tanaka // Hilary Haag // Hiroaki Hirata // Hiroaki Miura // Jason Douglas. // John Gremillion // Josh Grelle // Kôichi Yamadera // Luci Christian // Mariko Suzuki // Masakazu Morita // Masashi Ebara // Rumi Shishido // Ryô Hirohashi // Stephanie Wittels // Vic Mignogna // Yasuhiro Takato // Yumi Tôma