filed under Action / Adventure, Fantasy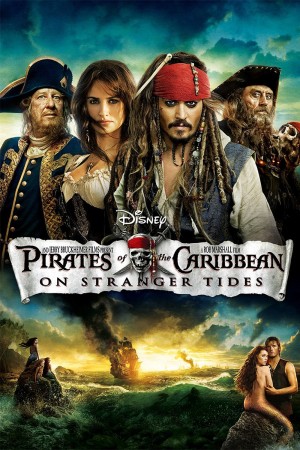 From Disney and Producer Jerry Bruckheimer come all the fun, epic adventure and humour that ignited the original. Johnny Depp returns as Captain Jack Sparrow in Pirates of the Caribbean: On Stranger Tides. A tale of truth, betrayal, youth, demise - and mermaids!
When Jack crosses paths with a woman from his past, he's not sure if it's love, or if she's a ruthless con artist using him to find the fabled Fountain of Youth. Forced aboard the ship of the most feared pirate ever, Jack doesn't know whom to fear more - Blackbeard or the woman from his past.
Directed by Rob Marshall, it's filled with eye-popping action, mystery and all-out wit. Complete with a bounty of bonus features, this is one thrilling journey you won't want to end.
Principle Actors
Anton Lesser // Astrid Bergès-Frisbey // Damian O'Hare // Geoffrey Rush // Greg Ellis // Ian McShane // Johnny Depp // Keith Richards // Kevin McNally // Óscar Jaenada // Penelope Cruz // Richard Griffiths // Roger Allam // Sam Claflin // Stephen Graham