filed under Animation, Comedy, Family / Kids, Fantasy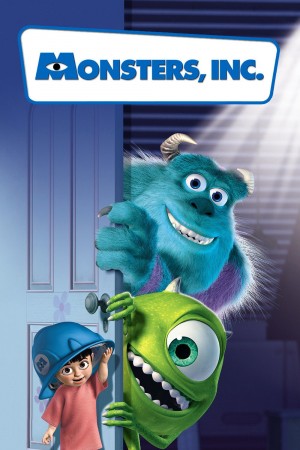 From the Academy Award-winning creators of Toy Story comes the world's number one animated film that captured the hearts of fans and critics everywhere. Featuring ground-breaking animation, imaginative storytelling and unforgettable voice talent, MONSTERS, INC. opens the door to a world of mischief and mayhem and scares up monster-sized laughs along the way.
Top Scarer Sulley and his enthusiastic Scare Assistant Mike work at Monsters, Inc., the largest scream processing factory in Monstropolis. The main power source of the monster world is the collected screams of human children. However, Monsters believe children are dangerous and toxic, and they are scared silly when a little girl wanders into their world. Sulley and Mike do their best to return the girl home, but they face monstrous intrigue and some hilarious misadventures along the way.
Treat yourself to the most entertaining movie of the year with all-new exclusive bonus features and animation for monster laughs and monster fun.
Principle Actors
Billy Crystal // Bob Peterson // Bonnie Hunt // Daniel Gerson // Frank Oz // James Coburn // Jeff Pidgeon // Jennifer Tilly // John Goodman // John Ratzenberger // Mary Gibbs // Samuel Lord Black // Steve Buscemi // Steve Susskind