filed under Anime (Japanese Animation), Drama, Manga, Science Fiction, Thriller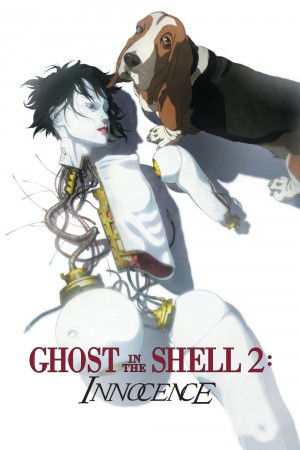 Groundbreaking director Mamoru Oshii continues to push the boundaries of art and animé with this universally acclaimed cyber thriller about a quest for a killer that becomes a mind-bending search for the meaning of life.
The long-awaited sequel to GHOST IN THE SHELL, INNOCENCE follows cyborg detective Batou as he tries to unravel the reasons for a murderous robot revolt in the year 2032. There are no easy answers in a futuristic world where the line between humans and machines has been blurred almost beyond distinction.
INNOCENCE is a philosophical thrill-ride through the darkest regions of human -- and inhuman -- nature, combining full-throttle action, cutting-edge animation, and the most provocative story in recent memory.
Principle Actors
Akino Watanabe // Akio Ôtsuka // Atsuko Tanaka // Eisuke Asakura // Emiko Fuku // Eriko Kigawa // Fumihiko Tachiki // Gou Aoba // Hiroaki Hirata // Hiroyuki Kinosha // Katsunosuke Hori // Kenichi Mochizuki // Kôichi Yamadera // Makoto Yasumura // Masaki Terasoma // Masao Harada // Minoru Hirano // Naoto Takenaka // Peter Emshwiller // Ryûji Nakagi // Shuji Kishida // Sukekiyo Kameyama // Sumi Mutoh // Tamio Ôki // Yasushi Niko // Yoshiko Sakakibara // Yu Sugimoto // Yutaka Nakano // Yuzuru Fujimoto