filed under Biography, Drama, Musicals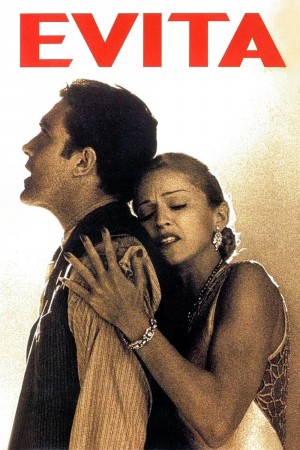 Few times in the history of Hollywood has a film been released with the scope and daring of Evita! Now, experience this landmark achievement as entertainment megastar Madonna -- in the role of a lifetime -- joins handsome Antonio Banderas (Assassins, Desperado) for the year's most talked-about motion picture event!
Directed by award-winning filmmaker Alan Parker (Mississippi Burning), Evita is the riveting true-life story of Eva Peron (Madonna), who rose above childhood poverty and a scandalous past to achieve unimaginable fortune and fame. Despite widespread controversy, her passion changed a nation forever! Winner of the coveted Academy Award for Best Song (1996) and 3 Golden Globe Awards (Best Picture, Best Actress and Best Song) -- critics nationwide hailed Evita as a triumphant must-see masterpiece -- and so will you!
Principle Actors
Antonio Banderas // Jimmy Nail // Jonathan Pryce // Madonna