filed under Action / Adventure, Animation Series, Anime (Japanese Animation), Box Sets, Drama, Manga, Science Fiction, Special Editions, Television Serials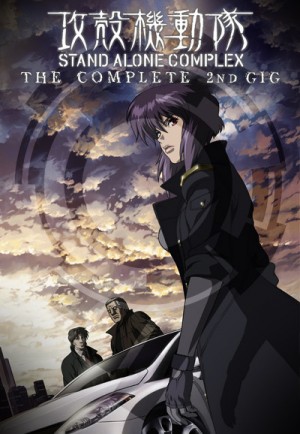 A new beginning, a new threat...
Masamune Shirow's groundbreaking cyberpunk thriller returns for the brand new smash-hit second season: GITS Stand Alone Complex 2nd Gig!
Major Motoko Kusanagi and Section 9 continue to fight terrorists in both the real and on-line worlds. Acclaimed anime directors Mamoru Oshii and Kenji Kamiyama have teamed up with the award-winning animation staff at Japan's acclaimed Production IG studio to bring you the most exciting and highly-anticipated new series of the year.
This special Collectors Edition includes a tin containing all 7 volumes of the 2nd Gig. 14 discs including DTS soundtracks, extras and more.
Volume 1:
Reembody, Night Cruise, Cash Eye, Natural Enemy
Volume 2:
Inductance, Excavation, PU239, Fake Food
Volume 3:
Ambivalence, Trial, Affection, Selecon
Volume 4:
Make Up, Poker Face, Pat, Another Chance
Volume 5:
Red Data, Trans Parent, Chain Reaction, Fabricate Fog
Volume 6:
Embarrassment, Reversal Process, Martial Law
Volume 7:
Nuclear Power, This Side of Justice, Endless Gig
Principle Actors
Barbara Goodson // Barry Stigler // Bob Papenbrook // Dino Andrade // Doug Stone // Douglas Rye // Julie Ann Taylor // Kari Wahlgren // Kate Higgins // Kevin Brief // Liam O'Brien // Loy Edge // Michael Gregory // Michael McConnohie // Paddy Lee // Peggy O'Neal // Tom Wyner