filed under Action / Adventure, Suspense, Thriller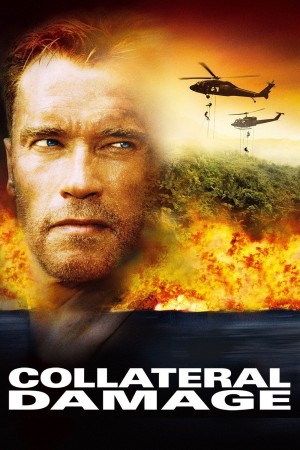 Officials investigating a terrorist bombing warn Gordy Brewer not to get involved, but events have already involved him in the most horrible way. His wife and child are among the victims claimed by the blast.
Surging excitement and one-man heroics fuel the powerful action thriller Collateral Damage. Superstar Arnold Schwarzenegger plays that one man. He's Brewer, a Los Angeles fireman who sets out to find the terrorist called El Lobo. Andrew Davis directs, deftly pacing the action as Brewer stalks his prey from L.A. to Colombia to Washington D.C. Brewer knows El Lobo will strike there. But how? When? And precisely where? In the scramble for answers, one thing is clear: Collateral Damage is a ticking time bomb of suspense.
Principle Actors
Arnold Schwarzenegger // Cliff Curtis // Elias Koteas // Francesca Neri // John Leguizamo // John Turturro