filed under Action / Adventure, Book-to-Film, Cult Movies, Science Fiction, Special Editions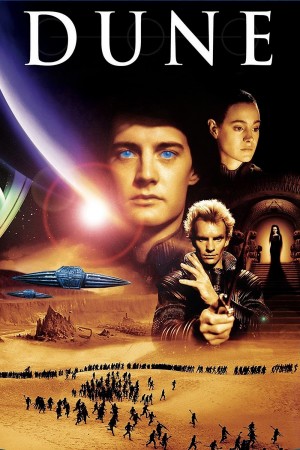 The long-awaited film version of Frank Herbert's classic science fiction epic, Dune, explodes on the screen with dazzling special effects, unforgettable images and powerful performances.
The saga of intergalactic warrior Paul Atreides and his messianic rise to leadership features an all-star cast, including Jose Ferrer, Max von Sydow, Oscar winner Linda Hunt and rock legend Sting.
It is a world of menace, grandeur and intrigue. The planet Dune - 10,000 years into the future: giant, mile-long sandworms guard its most precious and priceless assets, the spice melange, which permits travel through time and space. Whoever controls the spice and its secrets controls the Universe. An epic conflict grips the galaxy as Paul Atreides leads his people into combat against the evil Harkonnens for possession of the planet. But on Dune, Paul discovers that he has an even greater destiny to fulfil...
This special edition includes a new prologue and an additional 35 minutes of extra footage not included in the original theatrical release.
Principle Actors
Jose Ferrer // Kyle MacLachlan // Linda Hunt // Max von Sydow // Patrick Stewart // Sting