filed under Animation, Family / Kids, Fantasy, Special Editions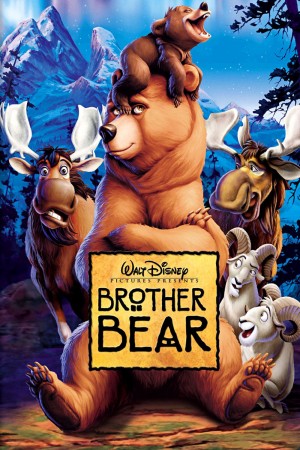 Disney proudly presents Brother Bear, an epic animated adventure full of comedy and heart. With five great new songs from Academy Award winner Phil Collins, it's "pure Disney magic from beginning to end!" raves Clay Smith of Access Hollywood.
When an impulsive boy named Kenai is magically transformed into a bear, he must literally walk in another's footsteps until he learns some valuable life lessons. His courageous and often zany journey introduces him to a forest full of wildlife, including the lovable bear cub Koda, hilarious moose Rutt and Tuke, woolly mammoths, rambunctious rams and more!
This 2-disc set is loaded with bonus features - including an outrageously funny "Moose Commentary" starring Rutt and Tuke, outtakes, deleted scenes, games and more! Brother Bear is "a charming, enchanting story for kids of all ages!" (Larry King, CNN).
Principle Actors
D.B. Sweeney // Dave Thomas // Harold Gould // Jason Raize // Jeremy Suarez // Joan Copeland // Joaquin Phoenix // Michael Clarke Duncan // Rick Moranis