filed under Comedy, Television Serials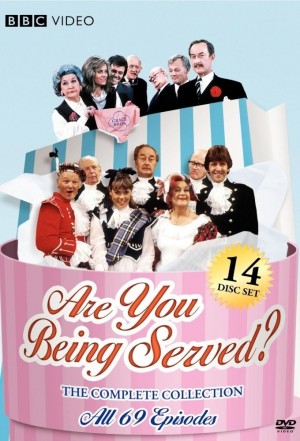 There's plenty of laughter in store when an unbelievably quirky contingent of sales clerks makes shopping at Grace Brothers the comic experience of a lifetime.
The staff has been hard at work polishing and pressing all 34 classic episodes from the first five series of this beloved BBC comedy series, many available on video for the first time (including the rarely seen, black-and-white Pilot episode).
Also included is a bonus disc containing close-ups of your favourite Are You Being Served? stars and more!
Volume 1 (Series 1):
Pilot - Dear Sexy Knickers - Our Figures Are Slipping - Camping In - His and Hers - Diamonds Are a Man's Best Friend
Volume 2 (Series 2 & 3):
The Clock - Cold Comfort - The Think Tank - Big Brothher - Hoorah for the Holidays - The Hand of Fate
Volume 3 (Series 3):
Coffee Morning - Up Captain Peacock - Cold Store - Wedding Bells - German Week - Shoulder to Shoulder
Volume 4 (Series 3 & 4):
New Look - Christmas Crackers - No Sale - Top Hat and Tails - Forward Mr. Grainger - Fire Practice
Volume 5 (Series 4 & 5):
Fifty Years On - Oh What a Tangled Web - The Father Christmas Affair - Mrs. Slocombe Expects - A Change is Good as a Rest
Volume 6 (Series 4 & 5):
Founder's Day - The Old Order Changes - Takeover - Goodbye, Mr. Grainger - It Pays to Advertise
Volume 7 (Extras):
Funny Turns with John Inman - Funny Women with Mollie Sugden - A Life on the Box with Wendy Richard - Are You Being Confused?
Principle Actors
Arthur Brough // Frank Thornton // John Inman // Mollie Sugden // Nicholas Smith // Trevor Bannister // Wendy Richard