filed under Comedy, Crime, Romantic Comedy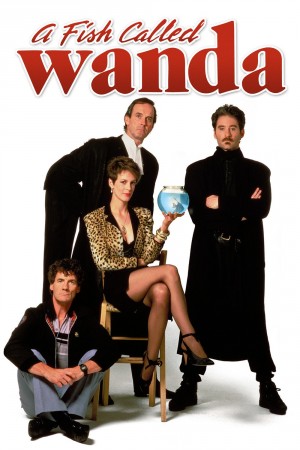 Tour-de-force performances by an unparalleled comic cast highlight this much-loved hit that Roger Ebert calls "the funniest movie I have seen in a long time!". Monty Pythoners, John Cleese and Michael Palin, join Kevin Kleine and Jamie Lee Curtis in an entertainment so impeccably timed and executed that Time hailed is as "genius - [a film that] redefines a great comic tradition!".
Four conniving jewel thieves... three Yorkshire terriers... two heavy bosoms and one proper British barrister. It all adds up to "a non-stop barrage of... outrageous plot twists and over-the-top performances" (LA Weekly), when a girl called Wanda tries to deceive her Nietzsche quoting boyfriend, an animal loving hitman and an embarrassment-prone lawyer out of a fortune in jewels in this hilariously funny farce!
Principle Actors
Al Ashton // Cynthia Cleese // Geoffrey Palmer // Jamie Lee Curtis // John Cleese // Ken Campbell // Kevin Kline // Maria Aitken // Mark Elwes // Michael Palin // Neville Phillips // Patricia Hayes // Peter Jonfield // Roger Hume // Tom Georgeson