filed under Action / Adventure, Drama, Fantasy, Martial Arts, Thriller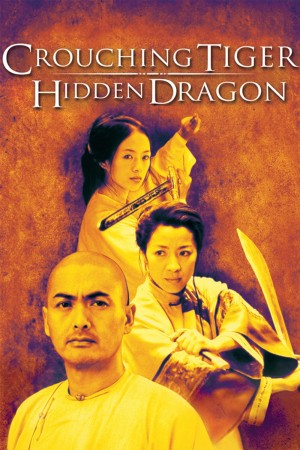 In the most-talked about movie of the year, Director Ang Lee (Sense and Sensibility) brings together a breathtaking combination of high-flying action choreographed by Yuen Wo Ping - The Matrix) and stunning visual effects, woven around a story of honour, courage and love.
Set in 19th century China, Crouching Tiger Hidden Dragon follows two martial-arts masters Li Mu Bai (CHOW YUN FAT - Anna and the King, Replacement Killers) and Yu Shu Lien (MICHELLE YEOH - Tomorrow Never Dies) as they battle against evil forces to regain the stolen Green Destiny sword and defeat long-time foe Jade Fox. To succeed they must overcome an unknown warrior, the supremely skilled Jen (ZHANG ZIYI), who is fighting against an arranged marriage. In the process Li is torn between his deep and long-denied feelings for Shu, and his wish to tame and teach Jen.
Winner of over 40 awards, including Oscars for Best Foreign Language Film, Music, Cinematography and Art Direction (2000) and four BAFTA's including Best Director, this critically acclaimed masterpiece is, according to the Evening Standard 'a movie every man, woman and child on the face of the planet should see.'
Principle Actors
Chang Chen // Chow Yun Fat // De Ming Wang // Fa Zeng Li // Jin Ting Zhang // Kai Li // Li Li // Michelle Yeoh // Pei-pei Cheng // Rei Yang // Sihung Lung // Su Ying Huang // Xian Gao // Yan Hai // Zhang Ziyi