filed under Adult, Animation, Fantasy, Horror, Independent, Mystery, Science Fiction, Suspense, Thriller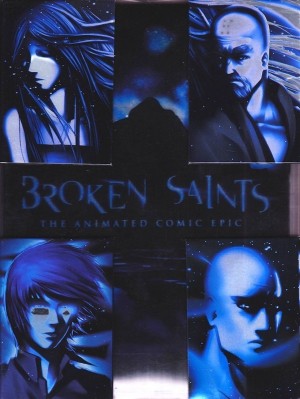 Visually stunning, masterfully told, viscerally thrilling: Broken Saints is finally on DVD! This controversial and critically acclaimed graphic-novel sage fuses anime style, comic-book text, cinematic effects and music into a revolution in modern storytelling. Originally created by a small team of independent artists, this hypnotic and surreal fantasy/horror epic is now presented as a 4-disc set - all the episodes representing over 10 hours of viewing with the celebrated voice talents of William B. Davis, Scott McNeil and more, plus an entire universe of mind-blowing special features!
In the quiet corners of the globe, four strangers receive a series of chilling apocalyptic visions. Simultaneously drawn to a dark city in the West, their fates - and the fate of the world - are somehow tied to a global satellite network, a massive conspiracy... and a mysterious orphan girl with a terrifying secret. What will they give to save us all? What will they give to know the truth?
Principle Actors
Adam Fulton // Amanda Marier // Colin Foo // David Kaye // Greg Anderson // Jamie Bell // Janyse Jaud // Kirby Morrow // Michael Dobson // Ryan Crocker // Scott McNeil // William B. Davis