filed under Action / Adventure, Crime, Thriller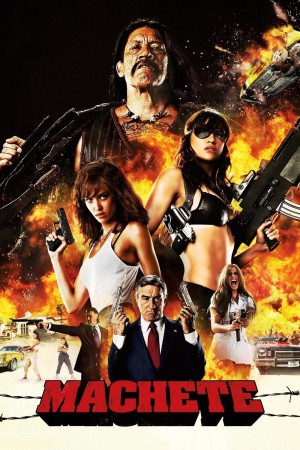 From director Robert Rodriguez comes an action-packed, cutting-edge serving of carnage asada... and the sharpest way to see it is on Blu-ray, with killer deleted scenes that deliver more guns, more girls and more Machete action!
Set up, double crossed and left for dead, Machete is an ass-kicking ex-Federale who lays waste to anything that gets in his path. As he takes on hitmen, vigilantes and a ruthless drug cartel, bullets fly, blades clash and the body count rises. Any way you slice it, vengeance has a new name - Machete.
Principle Actors
Ara Celi // Billy Blair // Cheech Marin // Danny Trejo // Daryl Sabara // Don Johnson // Gilbert Trejo // Jeff Fahey // Jessica Alba // Lindsay Lohan // Michelle Rodriguez // Robert De Niro // Shea Whigham // Steven Seagal // Tom Savini