filed under Classics, Comedy, Family / Kids, Fantasy, Musicals, Special Editions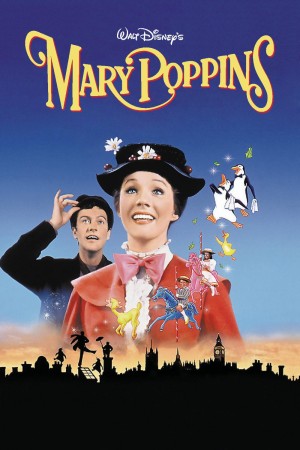 Experience the extraordinary animation, dazzling special effects and award-winning music of Walt Disney's Mary Poppins in this restored and remastered 2-Disc 45th Anniversary Special Edition!
Join the "practically perfect" Mary Poppins for a "jolly holiday" as she magically turns every chore into a game and every day into a whimsical adventure. Along the way, you'll be enchanted by unforgettable characters such as the multi-talented chimney sweep Bert.
Unpack Mary's magical carpetbag full of bonus features, including all-new bonuses from the "supercalifragilisticexpialidocious" Broadway production of Mary Poppins. You won't need a "spoonful of sugar" to love every moment of this timeless Disney classic!
Principle Actors
Arthur Malet // Arthur Treacher // David Tomlinson // Dick Van Dyke // Ed Wynn // Elsa Lanchester // Glynis Johns // Hermione Baddeley // Jane Darwell // Julie Andrews // Karen Dotrice // Matthew Garber // Reginald Owen // Reta Shaw