filed under Adult, Anime (Japanese Animation), Drama, Fantasy, Manga, Martial Arts, Special Editions, Thriller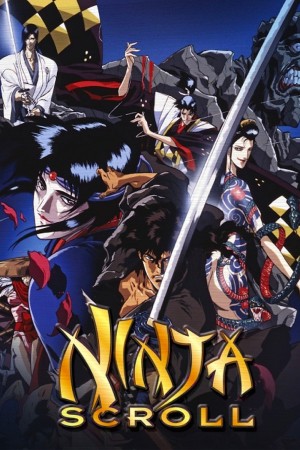 Feudal Japan - a time of danger, intrigue and deception.
Amazing, beautiful and mysterious, Ninja Scroll blends the mysticism of 17th Century Japan into an intensely packed tale of pulse-pounding anime action, fantasy and adventure. Directed by the revered Japanese anime veteran Yoshiaki Kawajiri and masterfully rendered by Japan's acclaimed Madhouse animation studio. Ninja Scroll features a wicked cast of characters and extraordinary fight scenes combined with lightening Samurai action.
One of the most critically acclaimed, highly popular and best selling anime films of all time, Ninja Scroll has been completely remastered and digitally reformatted with the latest in Surround Sound audio technology. This exciting new two-disc DVD set offers a pristine presentation of the original fullscreen feature film plus a newly created widescreen edition.
Principle Actors
Bradley Lavelle // Daisuke Gôri // Dean Elliott // Dougary Grant // Edward Mannix // Emi Shinohara // Joan-Carol O'Connell // Kôichi Yamadera // Michael Forest // Richard Barnes // Richard Cansino // Richard Epcar // Shûichirô Moriyama // Sonny Byrkett // Takeshi Aono // Toshihiko Seki // Wendee Lee