filed under Comedy, Musicals, Romance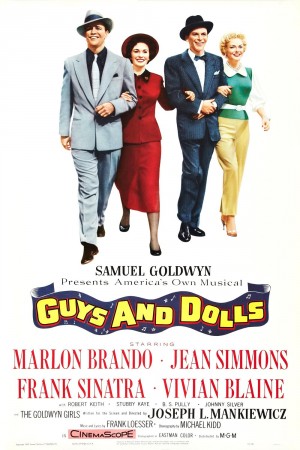 Hollywood legends Marlon Brando, Jean Simmons, Frank Sinatra and Vivian Blaine (from the original Broadway cast) are dazzling in this Frank Loesser masterpiece, unleashing a "spectacular song-and-dance show that's loaded with entertainment" (New York Journal-American). Featuring hits like "Luck Be a Lady" and "A Woman in Love", this smash film version of one of Broadway's most popular musicals is guaranteed, rip-roaring "four-star entertainment" (New York Daily News).
The slickest big-time New York City gamblers, Sky Masterson and Nathan Detroit, can't resist making or taking a bet on anything. So when a pretty missionary sets up shop in the neighborhood, Nathan stakes a grand that Sky can't seduce her. But all best are off when Sky falls madly in love in this romantic musical spectacular that sets the Big-Apple afire with excitement!
Principle Actors
B.S. Pulley // Frank Sinatra // Jean Simmons // Johnny Silver // Marlon Brando // Robert Keith // Stubby Kaye // Vivian Blaine