filed under Action / Adventure, Animation, Book-to-Film, Classics, Family / Kids, Special Editions, Thriller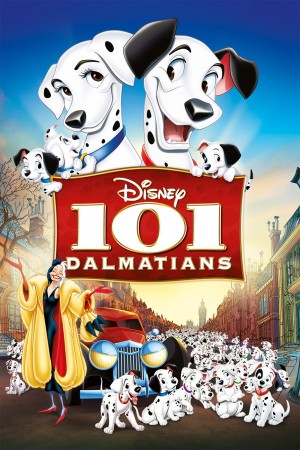 101 Dalmatians has charmed audiences for generations with its irresistible tail-wagging stars, memorable story and wonderful blend of humor and adventure. Now, with spectacular new bonus features including a "Virtual Dalmatians" game, 101 Pop-Up Trivia Facts and an all-new digital restoration, this beloved animated masterpiece shines like never before in a special 2-disc Platinum Edition.
Cruella De Vil, Disney's most outrageous villain, sets the fur-raising adventure in motion when she dognaps all of the Dalmatian puppies in London -- including 15 from Pongo and Perdita's faily. Through the power of the "Twilight Bark," Pongo leads a heroic cast of animal characters on a dramatic quest to rescue them all in a story the whole family will enjoy again and again.
Principle Actors
Barbara Beaird // Ben Wright // Betty Lou Gerson // Bill Lee // Cate Bauer // David Frankham // Frederick Worlock // George Pelling // J. Pat O'Malley // Lisa Davis // Marjorie Bennett // Martha Wentworth // Mickey Maga // Mimi Gibson // Queenie Leonard // Ramsay Hill // Rod Taylor // Sandra Abbott // Sylvia Marriott // Thurl Ravenscroft // Tom Conway // Tudor Owen