filed under Animation, Animation Series, Box Sets, Comedy, Science Fiction, Television Serials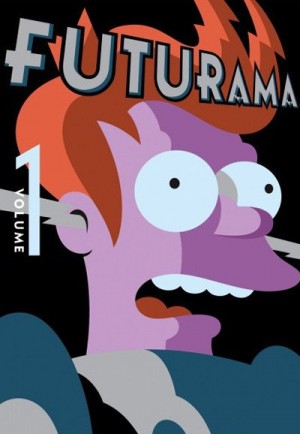 After an accidental cryogenic freezing, Fry awakens at the dawn of the year 3000. With the help of his two new friends, a degenerate robot named Bender and a beautiful one-eyed alien named Leela, Fry defies his life assignment as a delivery boy. He tracks down his great-great-great-etc. nephew, Professor Farnsworth, who hires the three to work for his intergalactic delivery service. It's a brave new world and Fry is in for the ride of his life.
This 3-disc boxset contains all the episodes of the first season along with exclusive extras, deleted scenes and commentaries.
Season 1 Episodes:
Space Pilot 3000
Episode Two: The Series Has Landed
I, Roommate
Love's Labours Lost In Space
Fear of a Bot Planet
A Fishfull of Dollars
A Big Piece of Garbage
Hell is Other Robots
A Flight To Remember
Mars University
When Aliens Attack
Fry & The Slurm Factory
Principle Actors
Billy West // Byrne Offutt // David Herman // Frank Welker // John Di Maggio // Katey Sagal // Kath Soucie // Lauren Tom // Maurice LaMarche // Phil LaMarr // Tress Macneille