filed under Anime (Japanese Animation), Comic-to-Film, Fantasy, Horror, Manga, Romance, Science Fiction, Thriller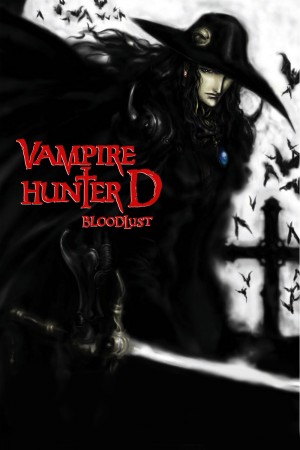 Based on Hideyuki Kikuchi's graphic novels Vampire Hunter D: Bloodlust combines elements of horror, romance, fantasy and graphic violence to make a thrilling and visually awe-inspiring film.
D is a fearless yet outcast bounty hunter, half human and half vampire, who is shrouded in melancholy and scorned by both humans and vampires alike, with only a wise-cracking parasite on his left hand to keep him company. He has been hired by the wealthy Elbourne family to track down their missing daughter Charlotte and the notorious vampire Meier Link who they believe to have kidnapped Charlotte in the nnight. However, D has some tough competition from a group of vampire hunters called the Markus Brothers who have also been hired by the Elbournes for the same dangerous task.
Written and directed by Yoshiaki Kawajiri (Animatrix, Wicked City, Ninja Scroll), Vampire Hunter D: Bloodlust was made in 2000 and, unlike most anime productions, the dialogue was originally recorded in English.
Principle Actors
Alex Fernandez // Andrew Philpot // Dwight Schultz // Jack Fletcher // John Di Maggio // John Hostetter // John Rafter Lee // Julia Fletcher // Mary Elizabeth McGlynn // Matt McKenzie // Michael McShane // Pamela Adlon // Wendee Lee