filed under Action / Adventure, Drama, Family / Kids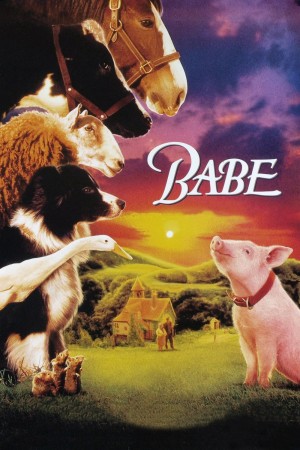 Nominated for seven Academy Awards including Best Picture and winner for Best Visual Effects, Babe is the timeless tale of a young orphaned piglet. Through his own sheer will and remarkable way with words, he overcomes the odds to become a 'pig of destiny'.
Babe's enchanting adventure begins in Farmer Hoggett's barnyard. Under the care of Fly, the sheep dog, Babe figures he's a sheep dog too -- and acts like it! But on a farm where outlandish antics and outrageous characters abound, you come to believe it yourself -- and root for the polite little pig as he competes in the National Sheepdog Championships.
Babe is a hilarious heart-warming classic your family will love to watch again and again.
Principle Actors
Charles Bartlett // Christine Cavanaugh // Danny Mann // Evelyn Krape // Hugo Weaving // James Cromwell // Magda Szubanski // Michael Edward-Stevens // Miriam Flynn // Miriam Margolyes // Paul Goddard // Paul Livingston // Roscoe Lee Browne // Russi Taylor // Zoe Burton