filed under Book-to-Film, Crime, Drama, Fantasy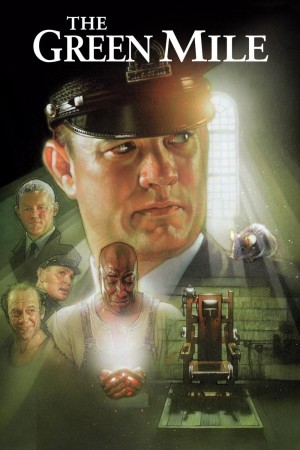 Paul Edgecomb is a slightly cynical veteran prison guard on death row in the 1930's. His faith and sanity deteriorated by watching men live and die, Edgecomb is about to have a complete turn around in attitude.
Enter John Coffey. He's eight feet tall. He has hands the size of waffle irons. He's been accused of the murder of two children... and he's afraid to sleep in a cell without a night-light.
Edgecomb, as well as the other prison guards - Brutus, a sympathetic guard and Percy, a stuck-up, perverse and violent person, are in for a strange experience that involves intelligent mice, brutal executions and the revelation about Coffey's innocence and his true identity.
This Academy Award nominated tale is the second collaboration from the writer (Stephen King) and the director of Shawshank Redemption.
Principle Actors
Barry Pepper // Bonnie Hunt // David Morse // Doub Hutchinson // Graham Greene // Harry Dean Stanton // James Cromwell // Jeffrey DeMunn // Michael Clarke Duncan // Michael Jeter // Patricia Clarkson // Sam Rockwell // Tom Hanks