filed under Animation, Classics, Drama, Family / Kids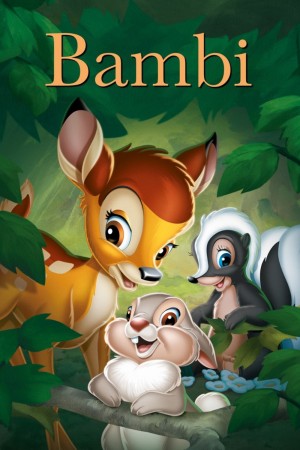 For the first time ever, the wonder, music and majesty of one of Walt Disney's greatest triumphs comes alive in glorious detail through the magic of Blu-Ray high definition!
Now Bambi, Walt Disney's beloved coming-of-age story, will thrill a new generation of fans with its breathtakingly beautiful animation, soaring music and characters who will touch your heart - Bambi, the wide-eyed fawn, his playful pal Thumper, the lovable skunk Flower and wise Friend Owl. Plus, an all-new immersive game and special features that reveal the extraordinary creative process behind the making of this timeless classic take you deeper into Bambi's world than ever before!
Walt Disney's Bambi is an experience you will never forget - "Exhilarating, wonderful and absolutely gorgeous on Blu-Ray!" (Scott Mantz, Access Hollywood).
Principle Actors
Ann Gillis // Bobette Audrey // Dolyn Bramston Cook // Donnie Dunagan // Hardie Albright // Jack Horner // Janet Chapman // Jeanne Christy // Marion Darlington // Peter Behn // Sam Edwards // Stan Alexander // Sterling Holloway // Thelma Boardman // Tim Davis