filed under Action / Adventure, Anime (Japanese Animation), Manga, Science Fiction, Television Serials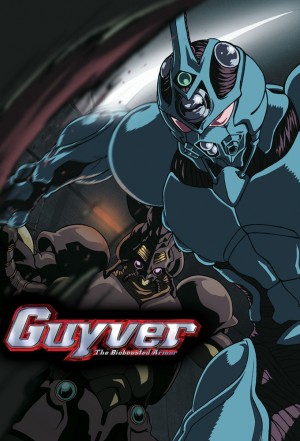 Lurking under the facade of everyday life lies a dark world of pain and destruction.
While investigating a mysterious explosion near his school, Sho Fukamachi happens upon the Chronos Corporation's greatest weapon: a techno organic suit of bio armour known as "the Guyver". But Chronos is determined to conceal its secrets at any cost. Sho soon finds himself relentlessly pursued by its army of horrific bio-monsters. With nowhere to run, Sho is forced to call upon the fearsome power of the Guyver and rip his opponents limb from limb in a desperate struggle for survival.
Disc #1
Episode 1: The Wondrous Bio-Boosted Armor
Episode 2: The Secret Society of Chronos
Episode 3: Inspector Risker
Episode 4: The Visitor at Dusk
Episode 5: The Third Shadow
Episode 6: Beyond the Desperate Battle
Disc #2
Episode 7: The Miraculous Cell
Episode 8: Shuddering Skyscraper
Episode 9: Ashes & Memories
Episode 10: Prelude to the Chase
Episode 11: Relic's Point
Episode 12: To Each His Own Resolution
Episode 13: The Tragic Enzyme II
Disc #3
Episode 14: Escape in the Rain
Episode 15: Guyot Joins the Fray
Episode 16: Arise, Guyver I
Episode 17: Nightmarish Encirclement
Episode 18: Vibrations
Episode 19: The Night Before the Final Assault
Disc #4
Episode 20: The Creator's Ship
Episode 21: Relic's Point in Disarray
Episode 22: Countdown to Collapse
Episode 23: Ray of Annihilation
Episode 24: In a Conquered Town
Episode 25: Quickening of the Chrysalis
Episode 26: Come Forth, Gigantic!
Disc #5 Bonus DVD
Principle Actors
Katsuyuki Konishi // Kenji Nojima // Kinryû Arimoto // Kosuke Takeuchi // Mitsuaki Madono // Nana Mizuki // Saburô Kamei // Tetsu Inada // Tomo Adachi