filed under Animation, Book-to-Film, Fantasy, Romance, Science Fiction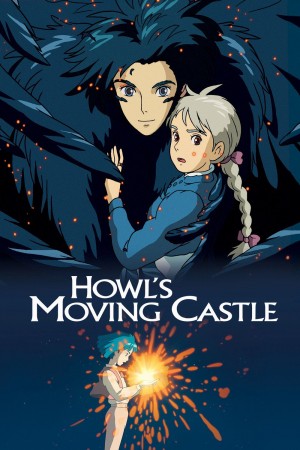 Howl's Moving Castle is the latest masterpiece from Oscar-winning director Hayao Miyazaki. It follows the story of young Sophie Hatter, a girl destined to lead a dull life as a hat maker. Sophie has resigned herself to her boring fate, but fate has other plans for her.
Sophie's life is thrown into turmoil when she is literally swept off her feet by a handsome yet mysterious wizard named Howl. Subsequently transformed into a 90 year-old woman by the wicked Witch of the Waste, she embarks on an incredible odyssey to lift the curse, and find refuge in Howl's magical moving castle.
Based on the book by Welsh author Diana Wynne Jones, Howl's Moving Castle is a magical tale of adventure and imagination.
Principle Actors
Billy Crystal // Blythe Danner // Christian Bale // Crispin Freeman // Emily Mortimer // Jane Alan // Jena Malone // Josh Hutcherson // Lauren Bacall // Liliana Mumy // Mark Silverman