filed under Action / Adventure, Crime, Drama, Thriller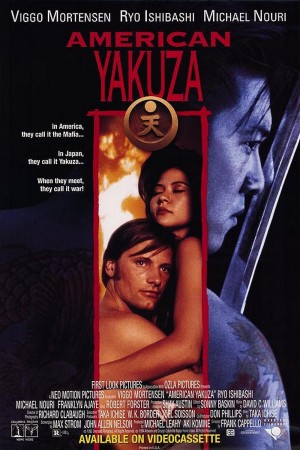 The Mafia has a new enemy - the ferocious Yakuza, a criminal brotherhood whose deadly tentacles have spread from its native Japan in a ruthlessly violent bid to snatch control of the Mafia's American powerbase.
Into this desperate killing field steps Nick Davis (Viggo Mortensen from Lord Of The Rings), an undercover FBI agent whose perilous mission is to become a rising gun of the Rising Sun, winning the trust of his Yakuza masters so he can topple their brutal empire.
Becoming the first 'outsider' to be accepted into the Yakuza's mysterious and exotic world, Nick is gradually seduced by their devout sense of honour and loyalty. Torn between his duty and his new-found brotherhood, Nick now faces the most difficult decision of his life.
American Yakuza captures the terrifying authenticity of the genuine Japanese underworld in a way that films like Rising Sun can never match. A joint Japanese-American production with technical guidance from real-life Yakuza gangsters, tis extra-ordinary motion picture is both today's fiction and tomorrow's reality.
Principle Actors
Cristina Lawson // Franklyn Ajaye // Fritz Mashimo // James Taenaka // Jeff Bankert // John Fujioka // John Hammil // Michael Nouri // Nicky Katt // Robert Forster // Rosine 'Ace' Hatem // Ryo Ishibashi // Saiko Isshiki // Viggo Mortensen // Yuji Okumoto